The 2023 Women's World Cup is in full swing, and these daily files give you the latest reporting from around the tournament as well as betting lines, what-to-watch-for information and best reads. Check in with ESPN throughout the tournament as we bring you the latest from Australia and New Zealand.
---
The lead: Sweden stun Japan to seal progress
AUCKLAND, New Zealand — The last of the former Women's World Cup winners have been eliminated from the competition, meaning a new champion will be crowned soon.
Sweden shell-shocked a Japan team that had looked like the tournament's most dominant side up to this point, winning 2-1 with goals from Amanda Ilestedt and Filippa Angeldal. Riko Ueki's controversial 76th-minute penalty hit the bar before a late Honoka Hayashi strike made the score more respectable — and, moments before, Aoba Fujino hit the bar with a free kick that rolled across the goal line — but Sweden were the better side, generating more and better chances.
Unsurprisingly, Sweden's opening goal came from a set piece. In the 32nd minute, Kosovare Asllani lofted a free kick into the box, which goalkeeper Ayaka Yamashita punched away. What followed was four blocked shots by Sweden players until the ball fell fortuitously in front of Ilestedt, who stepped in front of Japan's defense to slot it past Yamashita.
– Women's World Cup: Landing page | Bracket | Schedule | News
Japan didn't register a shot until the 25th minute, and their first shot in target came in the 32nd minute as they struggled to cope with Sweden's press.
"We were talking about being close to them and keeping on pressure," forward Sofia Jakobsson said afterward. "If we couldn't win the first ball, going in for the second, and I think that worked really well in the first until we scored the second goal. Japan was growing and they put pressure on us, but I'm super proud of how the team played."
Sweden will now face Spain in the semifinal and as Japan was the lone former champion left in the competition, their exit means that only teams that have never won the Women's World Cup remain. — Caitlin Murray
---
Sights and sounds
Spain shaken but not stirred
An earthquake measuring 5.6 on the Richter scale was recorded in Wellington at 11:53 a.m. local time on Friday — just over an hour before Spain's quarterfinal win against Netherlands in the New Zealand capital.
For the New Zealand-based journalists in the media centre at the stadium, the pinging of alerts on their phones confirmed that they had experienced a "shake," but the FIFA staff in the room were unaware when asked whether the tremor, whose epicentre was identified in the Cook Strait between the North and South Islands, would impact on the game itself.
The earthquake led to minor shaking in and around the stadium, and Spain coach Jorge Vilda said that it did not distract his team from the challenge of beating the Dutch — but he did reveal that his players had experienced tremors before the game.
"We were so concentrated on the game that we didn't feel it [quake], although we felt some shakes at the hotel the day before," Vilda said. "The victory of Spain was the earthquake."
Spain's players reported feeling an earthquake earlier in the competition when a 4.6 tremor shook Wellington on July 30 while the squad were based in Palmerston, a town to the north of the capital. — Mark Ogden
Can Spain reach Women's World Cup final despite internal issues?
Mark Ogden reacts to Spain's 2-1 win over Netherlands and talks about the issues the team has had with the Spanish Federation.
A statue for Van der Gragt?
Stefanie van der Gragt had signalled her intention to retire at the end of World Cup prior to the tournament, but the Netherlands defender could not have wished for a more eventful final game.
The 30-year-old Inter Milan defender scored a stunning equaliser for the Dutch after conceding a penalty for a reckless handball. And with the game drifting toward extra-time, she almost scored an own-goal with a mis-hit clearance that forced goalkeeper Daphne van Domselaar into a save.
Van der Gragt's hopes of bowing out with a World Cup winners' medal came to an end when Salma Paralluelo settled the tie with an outstanding solo goal in the 111th minute. But while he accepts Van der Gragt's decision to retire, Dutch coach Andries Jonker suggested that, if she doesn't change her mind, a statue should be built in her honour.
"She is not the best player in the world but she is maybe the best defender," Jonker said. "She is the kind of defender that the game just doesn't produce anymore. I think she deserves a statue for what she has done for the Netherlands and the game. We respect her a lot, but it's her decision. If she changed her mind, she would be welcome." — Mark Ogden
Colombia 'decongest' with a dinner out
SYDNEY — Regardless of what awaits Colombia in their quarterfinal meeting with England on Saturday, Nelson Abadía and his side are living up to his declaration following their 1-0 win over Jamaica in the round of 16: "We want to write history, we want to make history. It is better to make history than tell history."
Not only have Las Cafeteras already bested their high-water mark in this tournament (a round-of-16 appearance in Canada in 2015), they are now the lone nation from the Americas — north or south — left standing. But history makers rarely do so without feeling an added weight of expectation, anticipation and apprehension. That's to say nothing of the day-to-day grind that wears away at the body and mind during extended time spent abroad, in camp, at a major tournament. So, ahead of their clash with the Lionesses, Abadía and his side took a break.
"After six weeks of camp, sometimes you have a match that is just mental, like this one," he said on Friday. "Because it is going to open the door to the best four in the world, so we needed to decongest, mentally decongest the team so they could find themselves. For a little bit of recreation, we went out for dinner, got out of the hotel routine that can also be a little fatiguing as a player and as a coach. Sometimes it can be quite difficult. We wanted to bring back the normalcy of living together, so we took a day off just to relax and now we are back. It's not that we distanced ourselves from the match, because we got ourselves more [mentally] firm in the face of it."
Colombia will start as underdogs against England at Stadium Australia, but having already defeated runners-up Germany in the group stage, neither Abadía nor forward Mayra Ramírez looked overawed by the European champions.
"We know they are strong, but Colombia has shown that they have talent, that they sacrifice on the pitch," Ramírez said. "Because of issues with fate, we had to face the champion of Europe and the runner-up of Europe," Abadía added. "Germany was a great team and now we have to face England. This is a match that you need to play: Every match is a different story, a different plan, a different strategy, and we're going to be working on that." — Joey Lynch
How England can cope without James: 'We're not defined by one player'
Beth England reacts to Lauren James' two-match suspension ahead of the Lionesses' quarterfinal clash against Colombia in Sydney.
England's journey from fish and chips to World Cup
SYDNEY — Beth England has been used in the super-sub role at this World Cup for England, and it's a "pinch me" moment for the striker who used to make ends meet by working in a fish and chips shop in Barnsley.
When she broke through for the Doncaster Belles in the inaugural WSL back in 2011, she did her A-levels, played football and worked overnight to fund driving lessons. She'd work night shifts on Fridays and Saturdays in the Wellington Street takeaway in Barnsley.
On Thursday, she was facing the media in Sydney, having played in three of England's four matches at this tournament, including scoring her penalty in the Lionesses' 4-2 shootout win over Nigeria in the round of 16. It's an amazing return for a striker who forced her way into the squad by making a midseason move to Tottenham to get regular football.
"When I look back to working in the chippy, doing a shift until 5 a.m. and clearing up drunk people's food or alcohol bottles, I'm now playing in a major tournament. That for me is very much a 'pinch me' moment," England said. "Everyone's story is different, everyone has got their own way in which they got here. I think it's quite special because it's really humbling as well that with things like that you are just a normal person but then you come to a tournament like this and think, 'Wow, there are millions and millions of eyes watching me in these moments.'
"I think it's special and it's moments like that you can really treasure in your career because you know where you've come from and how hard you've worked to get to what you achieve."
England's team base is in Terrigal, a beach town north of Sydney. Along the beachfront are numerous seafood restaurants, and England is a connoisseur of which fish to go for.
"I'm probably a little bit of a fish and chip snob because I know what a good fish is," she said. "I don't like the skin on my fish either. If anyone wanted one battering, I should be able to do a good job!" — Tom Hamilton
Matildas' Hunt meets idol Renard
Marta's impassioned speech before her final World Cup game saw her speak about the lack of women role models for her growing up. "We now have players to look up to [in women's football], and that would not have happened if we had stayed still at the first hurdle we faced," she said.
The persistence of her generation, and previous generations, has counted for something with the current crop of players being able to list off women as their footballing heroes. One such player is Australia's Clare Hunt, a no-nonsense centre-back. Lining up for only her 11th game in her national team career, Hunt had two defensive idols growing up: her Matildas teammate Clare Polkinghorne, and French icon Wendie Renard.
"Wendie Renard was a role model for me. I saw her composure at a young age and wanted to emulate that in some way," Hunt told media. "I feel like I know the way that Wendie plays because I used to watch her as a kid. She's an amazing athlete, centre-back, leader."
That Renard and Hunt will now do battle — mostly at set pieces — while commanding their respective backlines is one of the signs of progress of the women's game globally. You can't be what you can't see, and long may the kids of today have women to look up to on the pitch. — Marissa Lordanic
Gustavsson: If Sam Kerr is fit, she's starting against France
Australia manager Tony Gustavsson says Matildas star forward Sam Kerr will start in the Women's World Cup quarterfinal clash vs. France if she's fully fit.
---
News of the day
For coach Tony Gustavsson there is no question as to what Sam Kerr's involvement in Australia's quarterfinal against France will look like if she is fit. "I want to be very clear here now to say if Sam is fit to play 90 minutes, she's starting," Gustavsson told reporters on the eve of the side's quarterfinal. "There's not even a question and the team knows it. We're talking about Sam Kerr here, whether she is ready to play 90 minutes plus extra time, that's to be decided tonight. But there's no question whatsoever that if she is [fit], she's starting."

Spain teenager Salma Paralluelo made a spectacular impact off the bench to send La Roja into the semifinals for the first time. The 19-year-old Barcelona winger decided a tense quarterfinal when she scored the extra-time winner in La Roja's 2-1 win over 2019 runners-up Netherlands. The former sprinter showcased her speed for the goal, racing up the pitch before sidestepping a defender and firing a left-footed shot that ricocheted off the post and in.

Paralluelo made a memorable debut with the senior Spain team only last November, scoring a hat-trick in a 7-0 win over Argentina in a friendly. She had been one of Spain's top sprinters, competing at the European indoor championships in the 400 metres in 2019, before giving up athletics to focus solely on soccer.

"The goal from Salma, it was sheer joy," said coach Jorge Vilda. "Salma is a player with enormous potential and she's not reached her best yet. She's a very young player who has been training one year in football specifically, and the best of Salma we'll see it in the future. Now she's excellent, but in the future it's going to be much, much more."

England star Lauren James has been hit with a two-match suspension by FIFA for the red card she picked up against Nigeria. The length of suspension means that if England beat Colombia on Saturday then James will miss the semifinal against either Australia or France. However, the two-match ban means she will be available for the final or third-place playoff, depending on how the Lionesses fare if they reach the final four.

James was shown a red card in the 87th minute of England's round-of-16 match against Nigeria after she was seen stamping on Michelle Alozie's back. England eventually got through the tricky tie 4-2 on penalties but had to manage extra time with 10 players. She could have picked up a three-match suspension — therefore ending her World Cup — but the FIFA disciplinary committee deemed the offence worthy of a two-match ban, the lower end of the scale for serious foul play.
---
Match previews for Saturday
Matildas have warned world they're more than just Sam Kerr
The Far Post podcast discuss the realisation for the Matildas and other World Cup contenders that they pose a massive threat with or without Sam Kerr.
Australia vs. France: Lang Park, Brisbane; 5 p.m. local / 3 a.m. ET / 8 a.m. UK
"We are not playing against a team. We are playing against a whole nation," France coach Hervé Renard told a news conference on Friday. His side face the co-hosts in a packed stadium in Brisbane but are ready for the furor. It is worth noting that France have had 17 different starters in this tournament, and every single on-field player has featured at least once so far. That is the total opposite for the Matildas, who have hardly rotated and used minimal subs.
A lot of the prematch talk has been around the fitness of Australia star Sam Kerr, but Renard isn't bothered. "It is not my problem whether she starts or not," he said. "We won't change our style. They have done well without her offensively but I would not change any of my forwards for theirs." Indeed, France have all their players available and Renard will keep his 4-4-2 formation to attack Australia.
Back on July 14, the hosts beat them 1-0 in a friendly just before the start of the competition but this is a complete different game. The key, maybe more than Kerr's presence on the pitch, will be how to deal with the pressure of a World Cup quarterfinal. Concentration will be crucial, and the occasion could get the best of either team. — Julien Laurens
England vs. Colombia: Stadium Australia, Sydney; 8.30 p.m. local / 6.30 a.m. ET / 11.30 a.m. BST
England are braced for a hostile crowd when they face Colombia, as the stadium is expected to be dominated by Colombian fans. England are looking to up their game after their nervy 4-2 win on penalties against Nigeria in the round of 16, and goalkeeper Mary Earps said the "best is yet to come" from the Lionesses, but they'll be wary of the threat Colombia pose.
Colombia manager Nelson Abadia has said his team are playing in seven World Cup finals (potentially all their games at this tournament) — this is their fifth, after winning all three of their group matches against South Korea, Germany and Morocco, then edging past Jamaica 1-0 in the round of 16. Linda Caicedo, Catalina Usme and Mayra Ramírez will be the keys once more.
England are favourites and are hoping to get the job done in normal time, avoiding the anguish of a penalty shootout. "I hope we don't have that much stress," manager Sarina Wiegman said. "We've seen in this tournament not one game is easy for anyone. It's so competitive. It's the beauty of the game and the growth of the women's game. I hope it's decided before that, but let's hope it goes our way." — Tom Hamilton
---
Features of the day
After lighting up Women's World Cup, Japan are out
Japan's dream run at the FIFA Women's World Cup has ended in the quarterfinals. Perhaps 2023 just wasn't their time yet.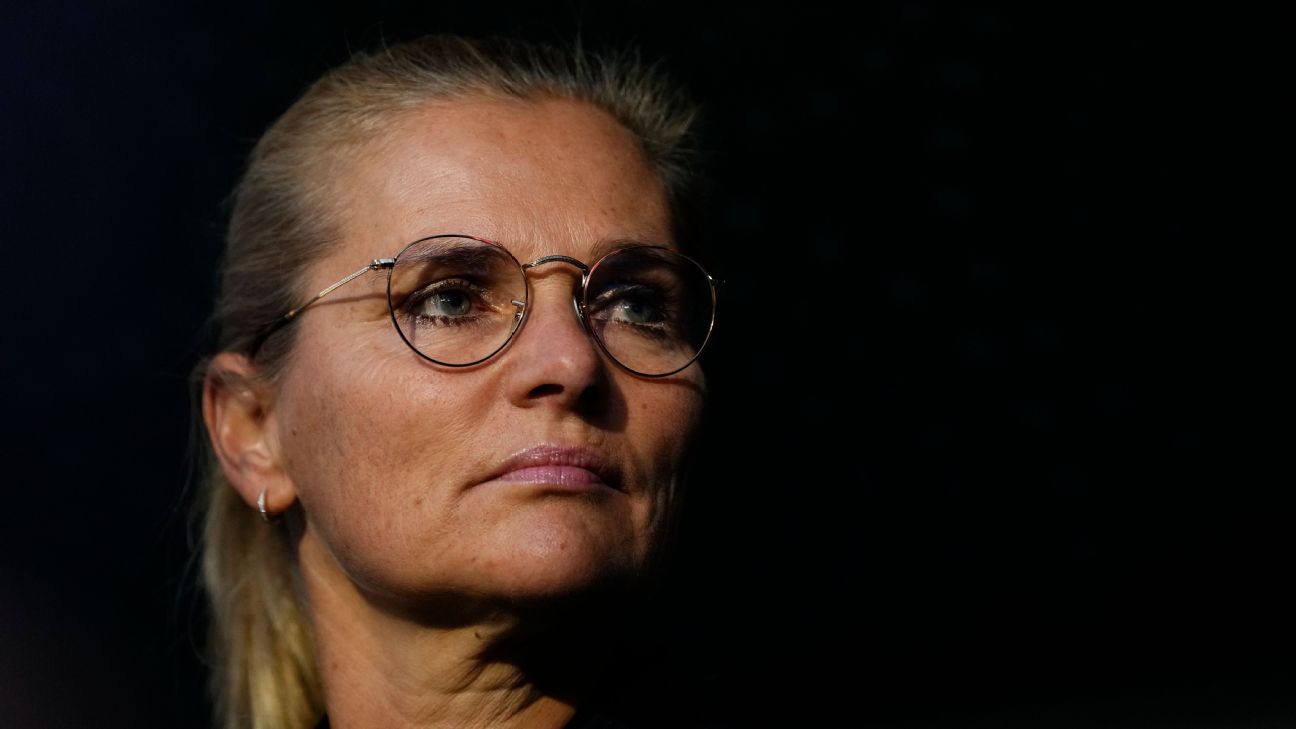 USWNT coach candidates to replace Andonovski after World Cup
With Vlatko Andonovski expected to leave as USWNT coach soon, who in the soccer world has the experience and track record to take the job? We break down 11 potential candidates ranging from "must call" to long shot.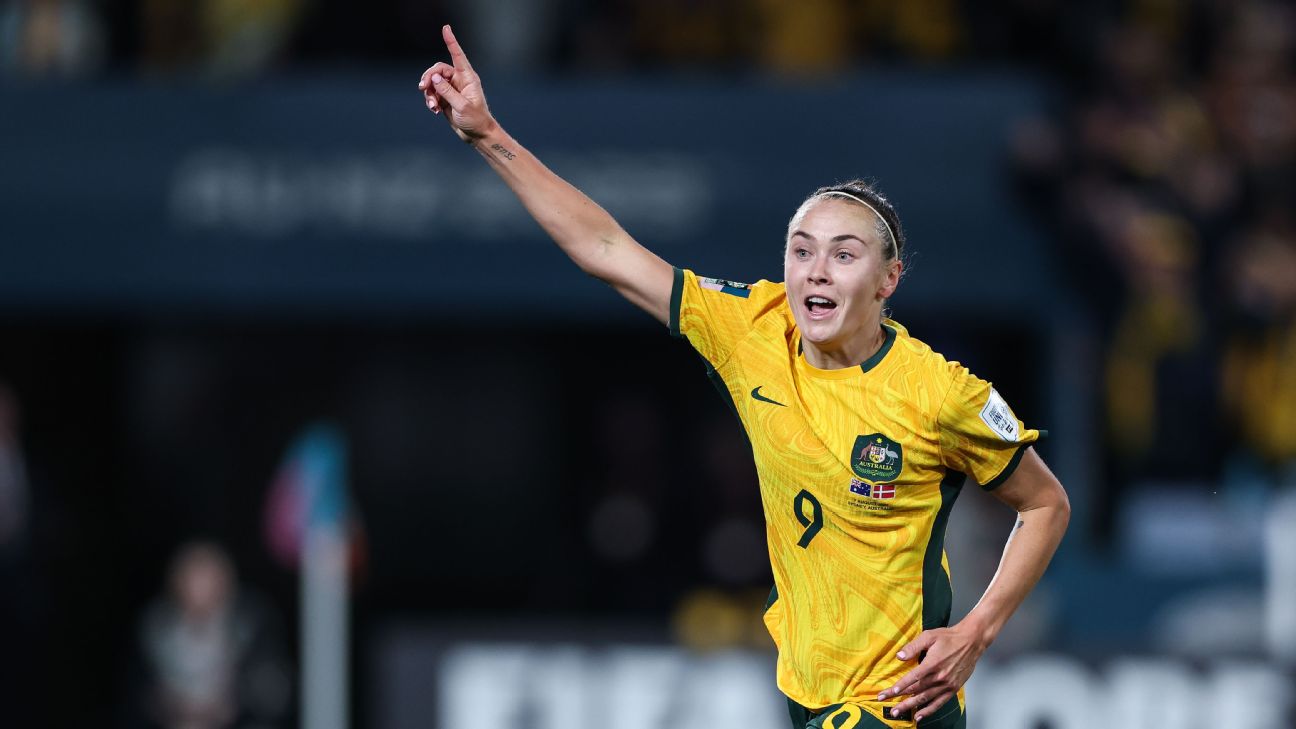 Matildas steeled by experiences, thriving on World Cup roller coaster
Australia will secure a maiden World Cup semifinal berth should they defeat France in Brisbane, and their fans will re-board the emotional rollercoaster hoping for more than one more ride.
---
And finally …
SYDNEY — Not only is Australia's coming quarterfinal against France the biggest game in Matildas' history, but it's also set to be one of the biggest sporting events the country has seen in decades.
Tickets are the most in-demand item since Taylor Swift announced she was touring Down Under, while the excitement surrounding the fixture has seen councils across the country provide a host of live sites where supporters can communally watch the match. Rod Laver Arena (home of the Australian Open tennis Grand Slam) and Sydney's Olympic Park (which will host England's quarterfinal with Colombia later that evening) are being transformed into impromptu watch parties.
After the Matildas' win over Denmark set ratings records, on Wednesday free-to-air rights holders Channel 7 took the extraordinary step of moving to broadcast the game on its main channel in all of Australia's states and territories, which, in turn, delayed the start of its flagship news bulletin. Such a move isn't unprecedented in a sporting context; however, you can count the number of times that's happened for football before on one hand and have fingers left over.
Perhaps most extraordinarily, the reigning overlord of the Australian sporting scene, the AFL, has moved to delay the opening bounce of its blockbuster clash between Carlton and Melbourne until 7:30 p.m. local time to aid this move. Additionally, the MCG, Perth's Optus Stadium, and SCG, which are all hosting AFL games that day, will put the Matildas on their big screens before and after their respective fixtures. Adelaide Crows coach Matthew Nicks, whose side travels to face the Brisbane Lions at the same time as the Matildas game, remarked: "If I could, I'd be watching the Matildas as well." — Joey Lynch