The 2023 Women's World Cup is in full swing, and these daily files give you the latest reporting from around the tournament as well as betting lines, what-to-watch-for information and best reads. Check in with ESPN throughout the tournament as we bring you the latest from Australia and New Zealand.
---
The lead: Sweden sends U.S. out by finest of margins
MELBOURNE/NAARM — The United States' Women's World Cup title defence is over. Defeated by Sweden on penalties after a frustrating 0-0 draw across the preceding 120 minutes, in the end it took one of the most dramatic shootouts ever to do it.
After Sweden missed two of its four kicks, the U.S. was 3-2 up and striker Sophia Smith had a chance to win it, only to put her effort wide. Goalkeepers Alyssa Naeher and Magdalena Eriksson then kept each side alive before U.S. defender Kelley O'Hara, brought off the bench late on to take a penalty, smacked an effort onto the post.
– Women's World Cup: Landing page | Schedule | Rosters | News
With a chance to win it for Sweden, Lina Hurtig stepped up and Naeher seemingly saved her effort. Only she didn't. Batting the ball away from goal after the low shot, Naeher thought she had kept it out; the referees convened, and VAR determined that the effort had crossed the line by a matter of millimeters.
This is how close Alyssa Naeher was to stopping Sweden's game-winning penalty 😱 pic.twitter.com/dykvycHKzE

— ESPN FC (@ESPNFC) August 6, 2023
In the game, Sweden wasn't good at all and didn't deserve to advance on the balance of play. The United States produced more. But in a repeat of the 2016 Rio Olympics quarterfinal, Sweden was able to grind out a result and hold its nerve when it mattered most.
Sweden goalkeeper Zecira Musovic kept her side in it during normal time as she produced one of the finest goalkeeping performances the World Cup has ever seen, denying wave upon wave of USWNT efforts on goal (22 shots in total, 11 on target).
The moment the game went to penalties, it felt almost inevitable that Sweden would be the one to advance. How could it not? Musovic had been irrepressible the entire game, producing saves that seemed to deny all rhyme and reason. Sweden might not have deserved this, but she did.
And for the first time since 2011, the USWNT lost a game at a World Cup. A tournament defined by surprises, underdogs and new nations announcing themselves will now crown a new world champion. — Joey Lynch
---
News of the day
Netherlands coach Andries Jonker said the 2023 World Cup is not over for Danielle van de Donk after the midfielder was left in tears following a yellow card during Sunday's 2-0 win against South Africa that will see her miss the quarterfinal against Spain through suspension. "We have come here with the conviction to beat everybody and that means all the teams, including South Africa and Spain," Jonker said. "So this doesn't have to be the last game for Danielle. She can be back for the semifinal. Danielle is disappointed to get a second yellow card, we are disappointed too, but we know the rules and I can see why the referee gave it. Danielle has universal qualities that are really part of the game, and if she doesn't play, we don't have these qualities. It's a puzzle we have to work out in the next few days, but we have several midfielders who can come in and play."

England star midfielder Keira Walsh is back in full training, and Sarina Wiegman has confirmed she could make a stunning comeback against Nigeria on Monday. The FA confirmed Sunday morning all 23 England players were training at their base at the Central Coast Mariners, including Walsh, who picked up a knee injury against Denmark. Later in the day, Wiegman confirmed Walsh was in the mix to possibly face Nigeria. "She's doing well," Wiegman said of Walsh. "She's started her rehab straight after the injury. We'll wait and see how she recovers from the training session, and if she does well, then she's available for tomorrow."

Norway striker Ada Hegerberg says football federations need to show more respect to their women's teams on the back of some historic achievements at the World Cup in Australia and New Zealand. "It is tough," she said. "More and more teams are here to show their best and it's tighter. You can see it from both sides: Are the best teams evolving in the right direction? But you see that smaller nations are coming up and are doing great work, putting their spirit into it, and it's great to see. I really hope it gives more nations more opportunities and more and more federations follow, because I know there are many nations that need more following and more respect from their federations."
---
Today in USWNT camp
How much blame lies with Andonovski for USWNT's World Cup failure?
Luis Miguel Echegaray questions the tactics of head coach Vlatko Andonovski after the USWNT crashed out of the Women's World Cup vs. Sweden.
Megan Rapinoe — Continues to be a shadow of her former self with shaky touches and poor set pieces. Redeemed herself a bit on the defensive end but was ineffective in attack. Her missed attempt in the shootout was a big momentum changer.

Sophia Smith — Seemed a step slow to everything early on, but then picked up her game. Still needed to be sharper on the ball though. Looked more comfortable in the middle. Missed her shootout attempt that would have won it.

Alex Morgan — Pressed hard, and made some unselfish runs, but the U.S. still needed more in attack. Nearly won it with a header late in regulation, only to be denied by Musovic.
Jeff Carlisle shares his player ratings for the USWNT's game against Sweden.
---
Sights and sounds
Ogden: Netherlands not as impressive despite making quarterfinals
Mark Ogden reacts to Netherlands' performance in their win over South Africa that takes them to the quarterfinals of the Women's World Cup.
Nervous Dutch get past South Africa
SYDNEY — Netherlands booked a quarterfinal clash against Spain by defeating South Africa 2-0 in Sydney, but it needed a costly error by goalkeeper Kaylin Swart to make this round-of-16 match safe for the Dutch. In truth, the Oranje made hard work of a game they were overwhelming favourites to win.
Having topped Group E ahead of the United States, the reigning world champion, following a 7-0 win against Vietnam in their final group game, Netherlands struggled to display the same ruthlessness in front of goal against Banyana Banyana. And although Jill Roord's ninth-minute header gave them the early lead at the Sydney Football Stadium, the Dutch were frustrated by their well-organised opponents, who had several chances to score through the impressive Thembi Kgatlana.
But while Dutch keeper Daphne van Domselaar produced a series of key saves to deny Kgatlana, Swart ultimately gifted the victory to the Netherlands when she allowed Lineth Beerensteyn's 20-yard shot to slip through her grasp on 68 minutes.
Prior to scoring their second goal, the Dutch were kept at bay by their lowly ranked opponents. Lieke Martens had a goal ruled out for offside by the VAR before midfielder Danielle van de Donk earned a yellow card, which will see her suspended for the quarterfinal against Spain, following a foul on Kharabo Dhlamini.
While they were anything but convincing, Netherlands emerged with the win. But the 2019 World Cup runners-up will have to rediscover their group form if they are to overcome a Spain side that cruised into the last eight with an emphatic 5-1 victory against Switzerland on Saturday. — Mark Ogden
Last woman standing
BRISBANE, Australia — The elimination of South Africa on Sunday left just one woman manager remaining in the Women's World Cup: England's Sarina Wiegman. We've seen Inka Grings' Switzerland lose to Spain, Hege Riise's Norway crash out, and then Desiree Ellis' South Africa exit against Netherlands. That leaves Wiegman's England team, who face Nigeria on Monday.
"It's not a competition to be a female coach in the tournament," Wiegman said. "Before the tournament [began] we started with 20 male and 12 female coaches.
"What we hope is that the balance gets right in the future. We are all working on that in England and in other countries too, to get real opportunities to give opportunities to have more women in the game and hopefully also more coaches the game and the balance gets right. And of course I had hoped more female coaches would be in the tournament."
Nigeria's Randy Waldrum agreed.
"We need more women coaching in the sport," he said. "We had the same issue in the U.S. I think there's been a larger push in our women's national team setup to have more female coaches heading those teams. You still see a lot of male coaches coaching.
"It's not that men shouldn't be but certainly we need a bigger investment in women and female coaching. As a coach educator we see there is always a push to try and get more women. Part of it is changing the 'boys club' mentality, too. We have to do more on the women's side with that." — Tom Hamilton
Hamilton: Walsh fitness a huge boost for England's World Cup chances
Tom Hamilton reacts to the news that Keira Walsh is back in training for England ahead of their last-16 clash vs. Nigeria at the Women's World Cup.
Music is the key for the Lionesses
BRISBANE, Australia — The England team have been keeping themselves entertained during the World Cup by forming a girl band, which features Rachel Daly, Keira Walsh, Millie Bright and Katie Zelem. Oh, and Zelem also doubles up as the team DJ.
"There's a lot of people to keep happy. Everyone's chirping in," Zelem said. "But I think 'you know what girls, I'm the DJ, don't tell the DJ what to do.'
"We have some singers — Rachel Daly and Millie Bright — who tell us we've formed a girl band. It's Daly, Bright, Keira [Walsh] and me — and we're called the 'Meringue-tangs.' I'm not sure why, but I think we just had meringues for dessert one night! You don't want to hear us because we're a little tone deaf."
The England team's songs during the Euro 2022 win were ABBA's "Does Your Mother Know?" and Celine Dion's "River Deep, Mountain High," but there's a different playlist here in Australia, including Sister Sledge's "We are Family," Natasha Bedingfield's "Unwritten" and some Whitney Houston songs.
"We've opened the auditions up to the rest of the bus, but we're yet to receive any [requests]," said captain Bright. "We're trying to get Georgia [Stanway] in but, you know, we're not Beyonces. We can't really sing! But we have a laugh. To be fair, every day on the way to training, we always put a sing-song on.
"We like to think we hit a few decent notes. We all bring a different variety, so it's good. There's not actually a reason why it was 'Meringue-tangs' but it just came up at one of the meals. From that day it stuck so you might see us on 'Britain's Got Talent' one day — or you might not." — Tom Hamilton
Interest in Matildas is sky-high
When Ange Postecoglou was Socceroos head coach, he spoke so passionately about wanting Australian football to dominate the headlines. He wanted the sport to consume the hearts and minds, the pages and screens of Australia like other sports have for decades.
It would appear that the nation has now reached that moment. On Sunday, following the 15 minutes of open training for the Matildas out in Western Sydney, a helicopter was spotted hovering over the pitch to try to capture some footage, undoubtedly looking for clues as to Sam Kerr's availability in particular.
When asked about what this meant for the country's interest in the Matildas, coach Tony Gustavsson couldn't turn off his dad instincts to start.
"I'm trying to be a bit funny here, it says that the interest here is sky-high, right?" he said, prompting groans of laughter. "Sorry. That was a bad one."
And while the coach acknowledged that at its core, moves like a helicopter over training did speak volumes as to the care Australia has for this team — and the creative, forbidden ways in which people are willing to try and get information — he was less enthused about information being leaked.
Gustavsson has played his cards close to the vest for almost the entire tournament, so it was unsurprising then when he followed his jokes with a much more serious response. "I also hope that the people that potentially capture something showed respect to the team and to the fans. I think our fans probably don't want to have anything revealed that can hurt our performance." — Marissa Lordanic
---
Match previews for Monday
Odds via Caesars Sportsbook.
Round of 16: England vs. Nigeria (Brisbane Stadium, Brisbane; 6:30 p.m. local, 3:30 a.m. ET, 8:30 a.m. BST)
Odds: England -355, Draw +380, Nigeria +1000
England hope to have Keira Walsh back in the mix to face Nigeria, and coach Sarina Wiegman has an otherwise fit squad to choose from. Just nine days ago there were fears Walsh would miss the rest of the tournament through injury, but the defensive midfielder has made a rapid recovery and could feature on Monday. But Wiegman would not be drawn on whether England would deploy a back three in defence, like they did against China, or use the back four as they did in their first two matches.
Nigeria manager Randy Waldrum is expecting England to go with the back three they picked for China in that 6-1 win and is preparing for both a Lionesses team with and without Walsh. He expects to have Desire Oparanozie available, while Asisat Oshoala is also fit. And with those two attacking options available, Waldrum is not worried about their lack of goals after grinding out two 0-0 draws in the group stages and he also appreciates the magnitude of what an upset would mean back in Nigeria.
"It would be a huge win, obviously," he said. "Already with what we've accomplished Nigeria is buzzing from what I understand. But if we beat the Olympic gold medalists [Canada, who they knocked out in the group stage] and then the European champions [England] then it would be something extremely special back home for people in Nigeria and for this squad. It could be transformational in a lot of different ways." — Tom Hamilton
Visiting the giant Sam Kerr mural in Western Australia
Sophie Lawson takes a trip to a huge mural of Sam Kerr in her hometown of East Fremantle in Western Australia.
Round of 16: Australia vs. Denmark (Stadium Australia, Sydney; 8:30 p.m. local, 6:30 a.m. ET, 11:30 a.m. BST)
Odds: Australia -112, Draw +220, Denmark +325
Denmark coach Lars Søndergaard didn't mince his words when asked whether it was his side's job to ruin the Matildas' party on Monday night. "It is, yes," he said.
While these sides have met two times in as many years, this 2023 contest won't be decided by the Matildas of 2021 or the Denmark of 2022. Australia enter the clash as favourites, but Denmark won't be afraid of their opponents or the occasion. Matildas head coach Tony Gustavsson was full of praise for his opponents who had "impressed" him through their first three group-stage games. Similarly, Søndergaard spoke of Australia's strength and ability to win with and without Sam Kerr.
The availability of the Aussie skipper is no more clear, but Instagram posts of her participating in full training on Saturday and a defiant "I will play" when stopped at Sydney airport could be cause for hope that Kerr will see her first minutes of the tournament in this round-of-16 encounter. — Marissa Lordanic
---
Features of the day
The transformation of Matildas goalkeeper Arnold
In the space of less than 12 months, Mackenzie Arnold has gone from bit-part player to one of the Matildas' most vital.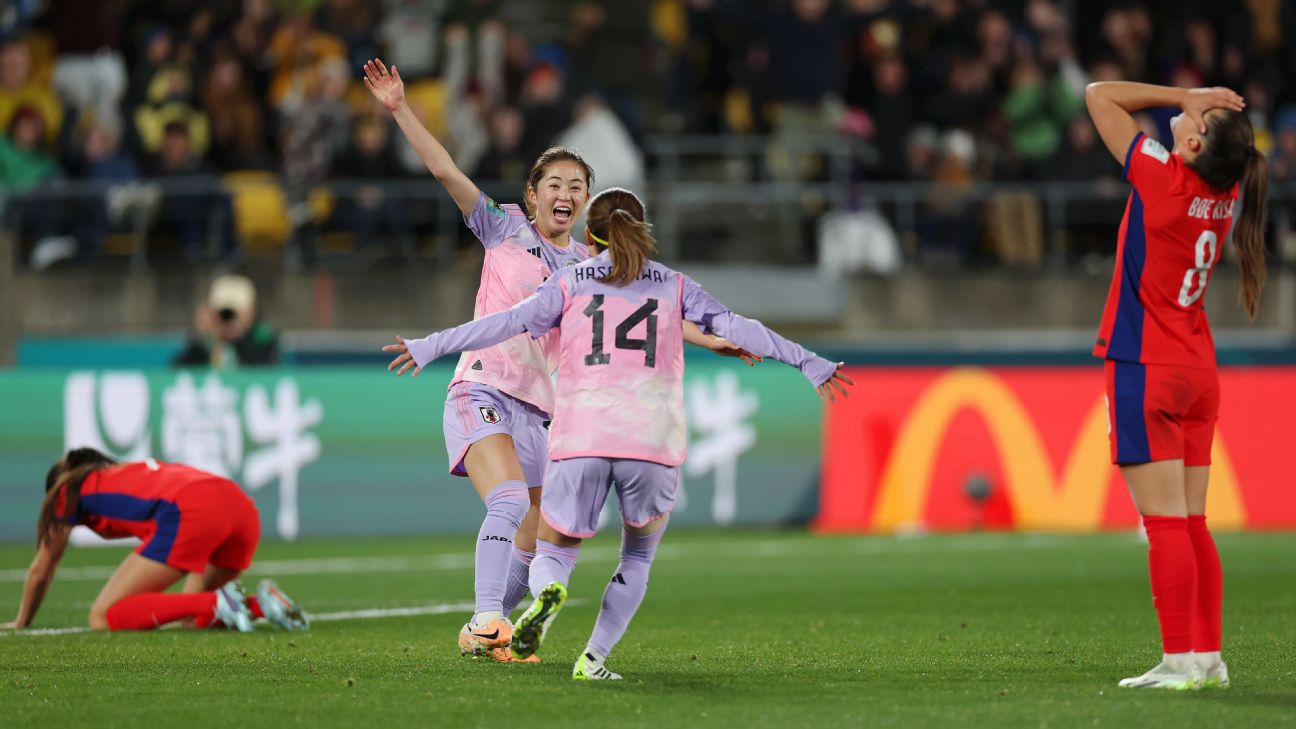 With poise and style in abundance, Japan march on
Japan advanced to the Women's World Cup quarterfinals over Norway and showed why they are now among the favourites.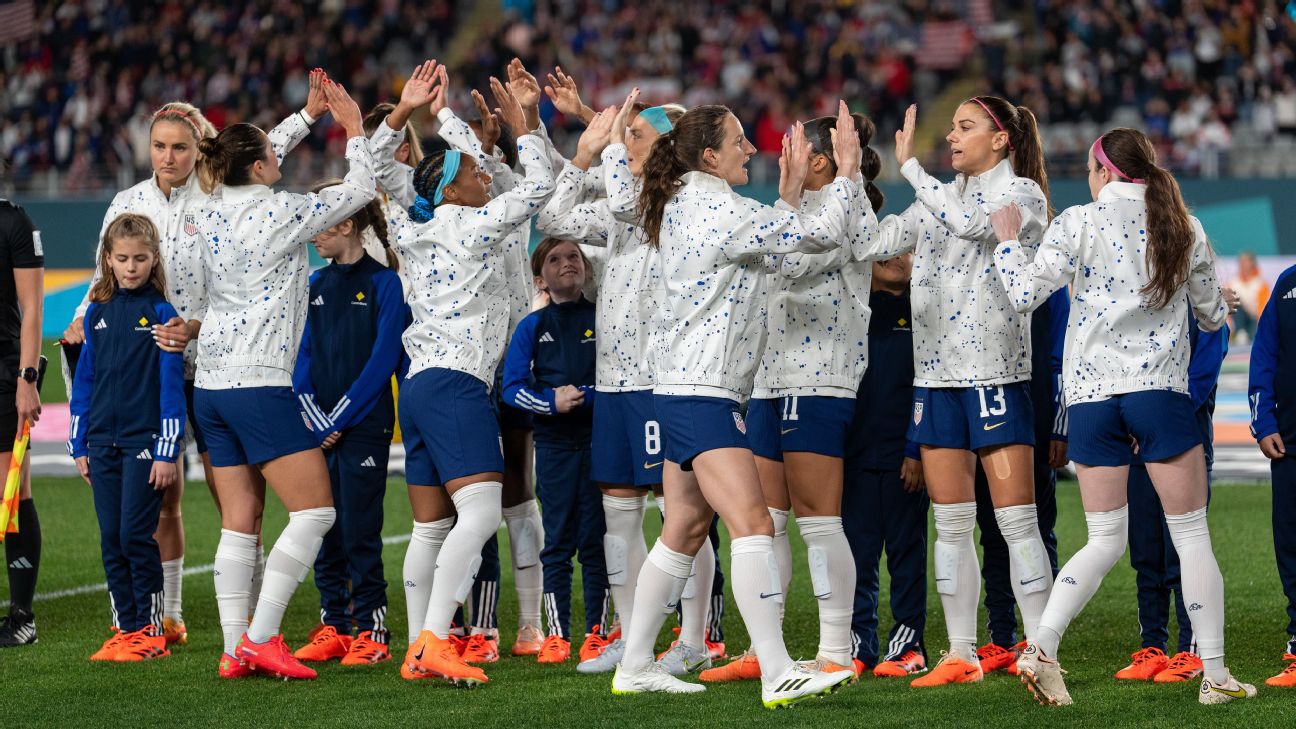 Explaining World Cup prize money gap, how "equal pay" works
Why is the prize money gap between the men's and women's World Cup so big? And why does this gap exist if the USWNT won "equal pay" from U.S. Soccer?
---
And, finally …
MELBOURNE/NAARM — Fans at the Women's World Cup have well and truly made their way around Australia and New Zealand, and the numbers now officially indicate they have made history.
Friday evening's crowd of 27,706 at the USWNT's clash with Sweden took the total attendance figures for the 2023 World Cup to 1,367,037 — that's 13,531 more than the previous record of 1,353,506 set in Canada in 2015. And while 2015 did feature fewer teams, and by extension fewer games, 2023's competition has managed to surpass the mark by its 52nd game — the same number staged in total in Canada.
Crowds in Australia and New Zealand have averaged 26,289 across the 52 games played thus far. And given that of the 12 games remaining, four will be at Sydney's 83,500-seat Stadium Australia, three at Lang Park (52,263) in Brisbane, and two at Eden Park (48,276) in Auckland, it's likely that 2023 will throw down the gauntlet for future tournament attendances. — Joey Lynch