Enzo Fernandez didn't make his senior international debut until September 2022. Within a few months he was a starter and World Cup winner with Argentina. The 22-year-old midfielder's ascent to the top has been rapid, even by modern football's standards, and it was only last summer that Benfica signed him from River Plate for around €14 million. Now Chelsea have made him a Premier League-record transfer, and one of the most expensive players in the world, with a €121m transfer.
– Sources: Chelsea sign Fernandez for record fee
Fernandez's impact has been nothing short of sensational. He made his River Plate debut in 2019, moved on loan to Defensa y Justicia a year later and returned to impress under manager Marcelo Gallardo with 10 goals in 28 games for River in 2022.
Benfica snapped him up in the summer of 2022 and gave him the No. 13 shirt previously worn by club legend Eusebio. He netted four goals and bagged seven assists in 29 games, and was named the best midfielder in Portugal's top flight by Liga BWIN head coaches in August, October and November. He also helped the club to top their UEFA Champions League group ahead of Paris Saint-Germain and Juventus and reach the knockout stages.
But it was with Argentina where Fernandez made the biggest waves. Having previously played for the under-18 side, the midfielder made his senior debut in a 3-0 win over Honduras in September 2022 and was named in Lionel Scaloni's 26-man squad for the 2022 World Cup in November.
Incredibly, he settled into international football almost immediately and from the final group-stage game vs. Poland on, he cemented his place in the first XI. Going on to lift the trophy, Fernandez also picked up the FIFA Young Player Award for the tournament.
With a €120m release clause in his contract, Chelsea made the move to secure his signature ahead of their rivals on deadline day. So what can we expect from him going forward? ESPN digs into the data with former scout Tor-Kristian Karlsen.
Position
A right-footed central midfielder, he was deployed as part of a "double-pivot" for Benfica in Roger Schmidt's 4-2-3-1 formation, but he's fulfilled a number of roles during his career.
When assessing a central midfielder's skills, there's usually one specific thing that stands out. Are they a crisp, active passer who dictates the circulation of the ball? A brilliantly forceful ball-carrying No. 8 able to drift past opponents in midfield while still in control of the ball? Or are they more of a playmaker or creative genius who, in a flash of inspiration, excels at feeding the forward players in the last third. How about the tidy, dynamic No. 6 able to regain possession, successfully evade pressure and feed a well-positioned teammate?
Well, Fernandez is all that … plus a bit more. And therein lays the tricky nature of labelling him: he's so complete that it is hard to put him in a defined positional box. — Karlsen.
By the numbers
Fernandez's senior international career is only 10 games old so far, but he made a big impact in helping Argentina win the 2022 World Cup and had more total touches than Lionel Messi (524).
Stats at the 2022 World Cup
– Matches: 7
– Touches: 558
– Pass accuracy: 87.6%
– Chances created: 6
– Shots: 8
– Goals: 1
– Expected goals: 0.30
– Recoveries: 39
Strengths
It is the variety of his skills and mastery of them that has made Fernandez so attractive to Europe's elite clubs, but one facet of his game that immediately draws the eye is his dynamism. He's exceptionally keen to get on the ball; always on the move, he's always available to receive a pass and once in possession, he keeps shifting it sideways to maintain and accelerate the flow of the game. Then, when a more intricate passing option is available, he's happy to go down the progressive route by picking line-breaking balls in central attacking areas.
When receiving possession in wider areas, he's excellent at hitting precise, cross-field switch balls to the opposite winger and his average of close to 100 passes per 90 minutes demonstrates his active nature and relentless impact on the game.
The freedom he was often given in Benfica's midfield and his roaming nature might have limited his direct goal involvements (namely his assists totals), but when studying the actions that led to a goal, it's often Fernandez providing the second last pass and if not, it's typical that those moves originated from his early creativity.
well-developed appreciation of angles and space, plus the agility to move before being closed down. The same high-level technique is also frequently seen when he's testing the opposing goalkeeper from distance with powerful, well-executed shots.
The energy and mentality that helps Fernandez be so involved with the ball also renders him highly efficient without it. His ability to cover ground quickly and track back and defend means he's made for the modern pressing game. While only 5-foot-10 and slight of build, the 22-year-old goes a long way to compensate his physical limitations with tenacity and character. He's also a committed tackler too with an impressive 2.80 tackles per 90 minutes. — Karlsen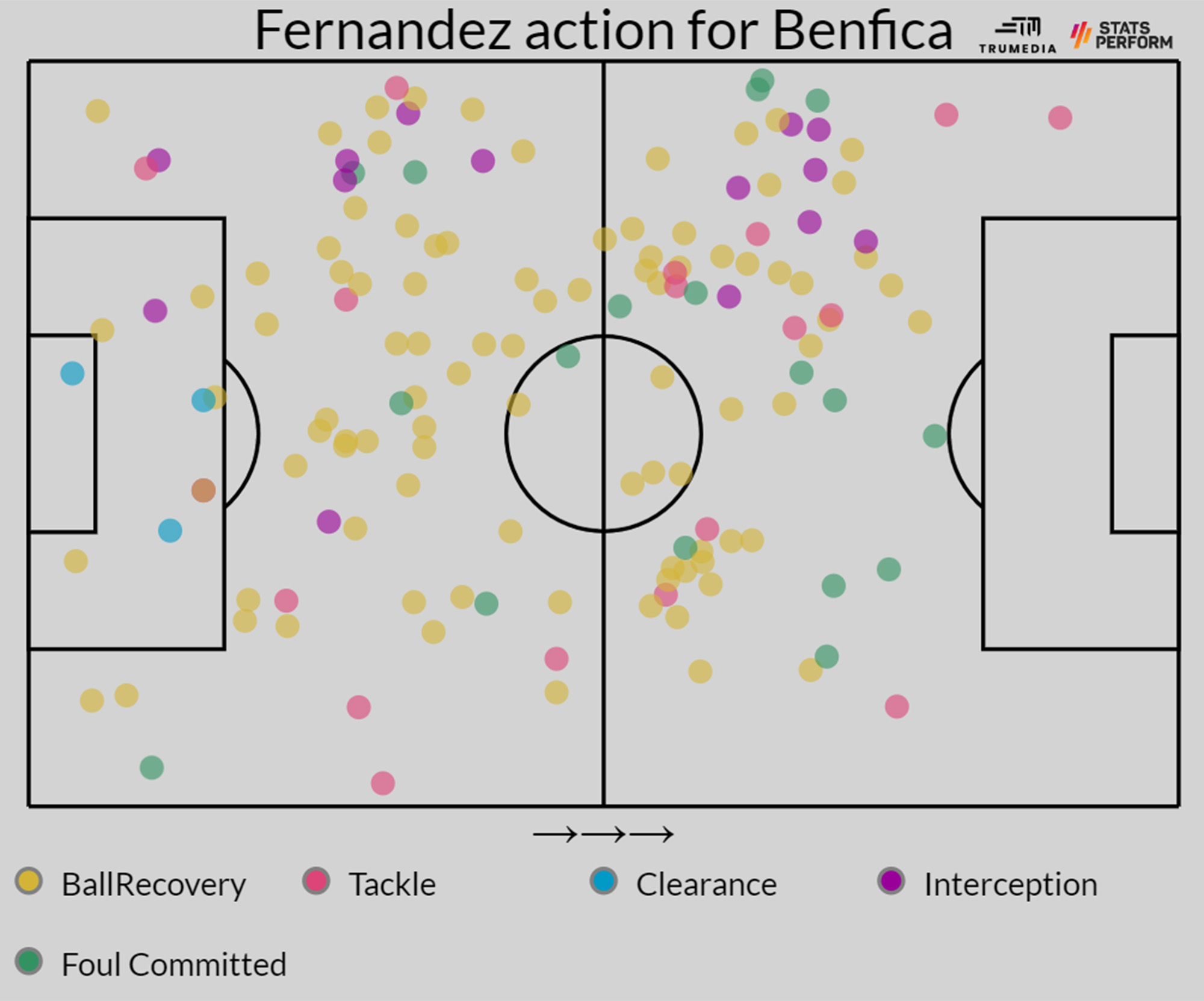 How he can improve?
For a young midfielder whose game appears so uniquely complete, any immediate or obvious weaknesses are hard to detect. He adapted to European football in a flash — not only to domestic Portuguese football, but also to the Champions League as well — while his impact in Argentina's World Cup-winning campaign was significant.
It begs the question as to whether he can keep developing at the same rate or if he's already reached his ceiling. The latter would be no catastrophe as his current level still places him among the top central midfielders in the world. But will he still be as efficient when the pace of the game is taken up a notch, the pressing is more intense and there's less time on the ball? — Karlsen
In quotes
Enzo Fernandez describing his characteristics: "I am a player with good technique and passing. I have a good strike and good vision of play. Now I place more intensity when it comes to ball recovery. To play in the first division, each day you have bring something new to your game. That is why I train alone in the afternoon to be physically better."
Pablo Esquivel, a River Plate scout who discovered Fernandez at the age of 5, told Clarin: "I was coaching a club in Villa Ballester and we faced Fernandez's team. He was already very intelligent despite his youth. The next day I told the [River] youth coaches that there was a 2001-born player from San Martín who was playing amazingly well and they told me to go look for him. So, I started to investigate where he lived, found the house and introduced myself to his parents. I spoke with Raul and Marta, his parents, who are phenomenal. At that time they told me that they preferred to wait because he was very young and I told them that it was better for him to make the move from that moment on because it took a while to adapt to the big pitch. After so many twists and turns we were able to convince the parents and we took him to the club."
Then-River coach Marcelo Gallardo, quoted in La Pagina Millonaria: "He has evolved a lot, I am very happy that he continues to maintain himself and it is not easy at 21 years old, he has a world ahead of him. When praise arrives, it is not easy to remain balanced, he has enormous potential to continue growing with the team [River]. He has been giving us many solutions and the most remarkable thing is that he knows that if he plays for the team he will continue to stand out."
Argentina coach Lionel Scaloni, quoted in La Pagina Millonaria in December: "He's made huge progress and we are very happy with his contribution. It is what we expect. Enzo has done things well, we believe he can give more and that he has a huge future ahead of him."
Argentina captain Lionel Messi, quoted by Mundo Deportivo during the World Cup: "He is impressive. He is a spectacular person, very humble and a very important player for us."
He added to TyC: "I'm not surprised by what Enzo does because I know him and I see him train [with the national team] every day. I also played against him in the Champions League. He deserves it because he is a wonderful person, a very important player for us."
How will he fit at Chelsea?
Chelsea have struggled in midfield in recent seasons and Fernandez is one of the best young players around in that position. His passing and movement should unlock defences, while his determination and stamina will aid the club in their fight for points and league position. But will Graham Potter allow him as much freedom as he was granted at Benfica, or does he run the risk of being "boxed" into a more fixed position?
At 22, the pressure of such a huge transfer fee may also weigh heavy on his shoulders. Fernandez needs to hit the ground running to prove that he is worthy of such an outlay.