Ruben Bover remembers when FC Andorra resembled a ragtag bunch of friends playing a pickup game.
The team didn't have a designated place to practice, so training sessions were held on whichever pitch was free in the tiny principality on a given day. Bover, having seen enough, called his agent. He was ready to leave.
"The players didn't have any clothes for training. One was wearing a Milan shirt, another one Real Madrid, another one Barcelona," the Spanish midfielder told theScore.
A turbulent spell with English lower-league side Barnet almost extinguished Bover's love for the game. He nearly quit altogether. So it was hard to envision his passion being rekindled near the bottom of Spain's fifth division with FC Andorra.
Except the club had a trick up its sleeve. Gerard Pique, one of the most decorated footballers in history, was on the line.
"They made me feel like the best player in the world," Bover recalled of his conversations with FC Andorra owner Pique and sporting director Jaume Nogues. "'You're the face of this club,' and stuff like that."
They encouraged Bover to stay until he found a better opportunity. Nearly five years later, the first signing of the Pique era is preparing for another season captaining FC Andorra in Spain's second tier. He harbors ambitions of leading the team against Barcelona and Real Madrid in the near future.
"This club is 100% one day going to be in the first division," Bover declared. "I don't know when but (it's) not far off."
No more than 40 fans
Four-time Champions League winner and 2010 World Cup champion Pique took over FC Andorra in late 2018 – and it's not immediately obvious why. The club from the landlocked microstate of Andorra has been the only non-Spanish side to compete in the country's league system since 1948. Its history featured few achievements. After its peak of reaching the third division in the 1980s and 1990s, it was reeling from two rough decades during which it dropped as low as the seventh tier. The only way into the country is by car; there's no train station and the nearest airports – in Toulouse, France and Barcelona, Spain – are between two-and-a-half and three hours away.
The clearest obstacle to success, though, is Andorra's population of around 80,000. Barcelona's Camp Nou will hold 105,000 spectators once its renovations are completed. Andorra's mountainous morsel of land is 3% the size of Puerto Rico.
FC Andorra president Ferran Vilaseca recalled the first match after Pique's consortium completed its takeover.
"Between 30 and 40 people (were) watching the game in the stands – probably family members," he told theScore.
"The club didn't have a place to practice. They weren't playing because the Andorran federation wouldn't allow them to play in their facilities. So, we really had to change the whole club."
FC Andorra discovered Bover because he shared an agent with Pique's former Barcelona and Spain teammate Cesc Fabregas. Nogues, a long-time friend of Pique who was entrusted as sporting director at FC Andorra, says Bover was "much, much better than the level we were playing at." The former Real Mallorca academy player had offers from higher leagues.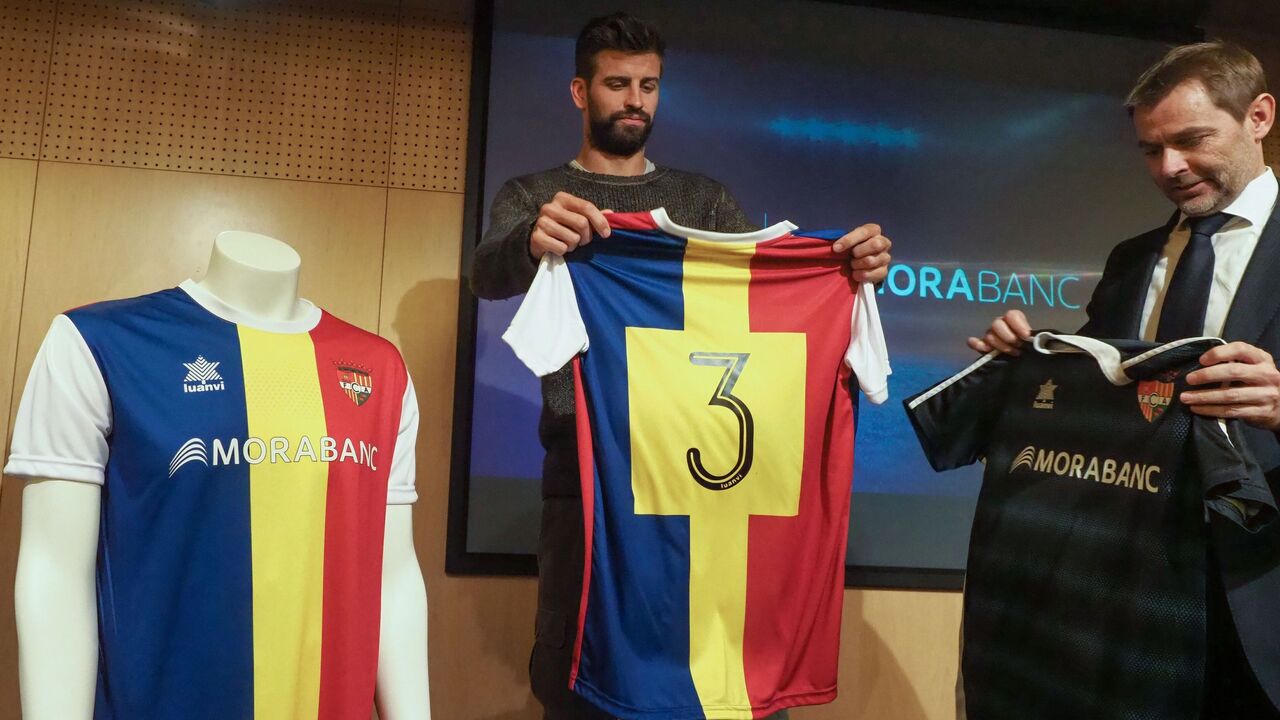 Getting the Bover deal over the line was an early indication of the club's ambition.
"In a very short period of time we were competing. When we took the club we were fifth from the bottom. We were just one point away from relegation," Vilaseca said.
"Jaume said, 'This year, we need to promote them.' We were all like, 'Wow. This is going to be difficult.' But we didn't lose a game."
Getting recognition
FC Andorra were promoted by a single point with the help of a 22-match unbeaten run in the fifth division – but they didn't rise just one level. The dire financial situation of CF Reus, a now-defunct Catalan club, led to their expulsion from the third tier, so Pique and his company Kosmos bid €456,000 to take Reus' place in the league. Amid reported interest from several teams including Real Jaen – a top-tier side in the 1950s – and ambitious upstarts CF Intercity, it was FC Andorra who seized the chance to climb the ladder.
Most sides would try to survive after enjoying the extremely rare fortune of a double promotion, but one mid-table finish was followed by another promotion on the penultimate day of the 2021-22 campaign. In three-and-a-half years, FC Andorra swapped the threat of relegation to the sixth rung for second-tier football. The journey featured clashes with emerging stars like Barcelona's Uruguayan defender Ronald Araujo and new Chelsea signing Nicolas Jackson.
Such success doesn't go unnoticed. Unai Emery, a winner of four Europa League crowns, recently named FC Andorra – along with Arsenal, Napoli, Villarreal, and Brighton & Hove Albion – as one of his favorite teams to watch. FC Andorra haven't compromised on their possession-based, positive playing style against tougher opposition in Spain; in fact, Nogues notes, the team's approach is "more radical and purer" since Eder Sarabia, the restless assistant during Quique Setien's ill-fated Barcelona reign, took charge in January 2021.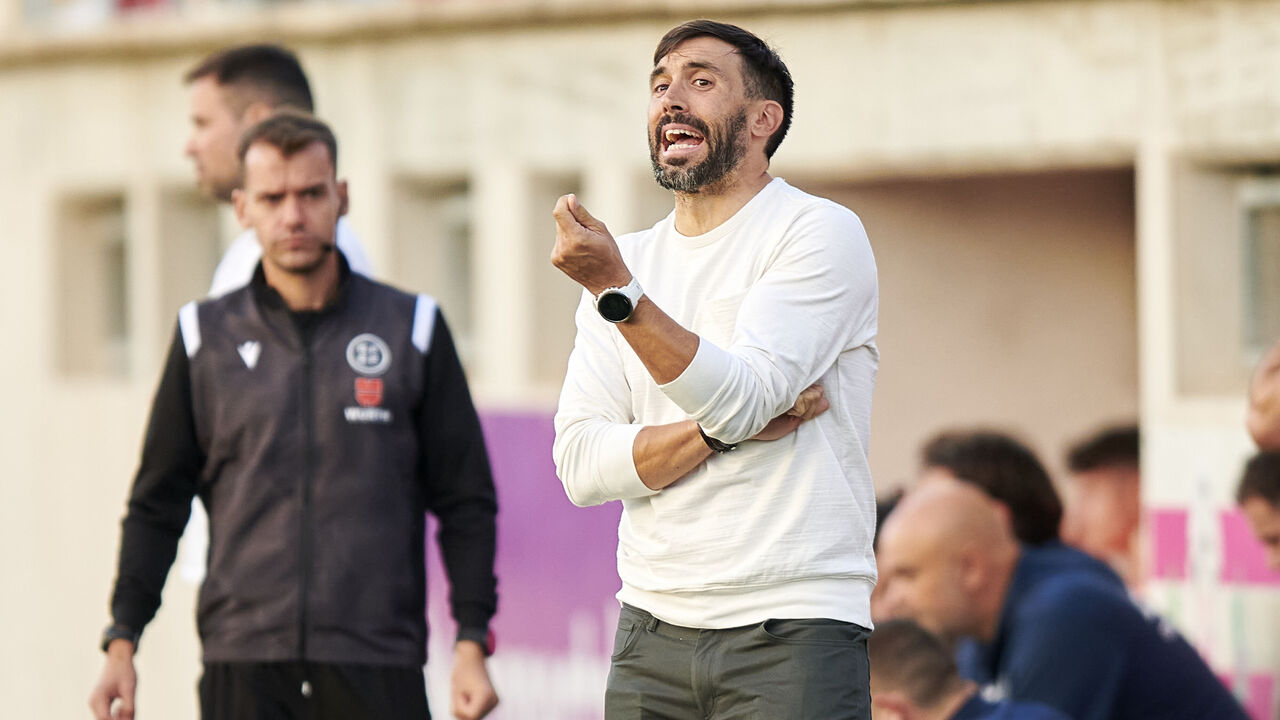 FC Andorra are open about the influence Pique's former club has on the team's identity – it would be ridiculous to shy away from it. This is Barca Lite. Seven members of last season's squad have spent some of their career with the Catalonian giants, and Nogues continually finds players who possess the technical ability typical of those schooled in the famed La Masia academy. Pique's former Barcelona teammate Gabri and ex-Barca B boss Nacho Castro preceded Sarabia in the dugout.
So, FC Andorra's football isn't necessarily revolutionary. It's just well executed.
"There are heaps of teams that play in a similar way and maybe we are more notorious for who we are and who we have behind us, but we love that people admire this," Nogues said of praise from Aston Villa head coach Emery and others.
'It's been a nightmare'
FC Andorra's inaugural season in La Liga 2 ended with an excellent seventh-placed finish – just one position shy of the promotion playoff places. Progress continued despite the club having the cheapest squad in the league, according to Nogues, and it'll likely have among the five lowest budgets next season.
"You get what you generate, and we don't generate that much," Vilaseca admitted.
The financial restrictions enforced in Spain's top two divisions could herald a spell of consolidation – and that might be a good thing. FC Andorra can catch up with its own success. "The team has risen faster than we expected. So, for the club, it's difficult to get to the same level," Nogues said.
FC Andorra are still trying to transition from a fifth-tier to second-tier outfit. What started as a group of three people running the club is developing into several teams behind the scenes covering administration, marketing, and commercial interests. The club is also working to meet La Liga's infrastructure-related expectations, but that's proving difficult when the tiny amount of Andorran real estate available is so expensive. A project to build a 6,000-capacity stadium had to be abandoned due to prohibitive costs, and the club is now working on building a similar home in an alternative location.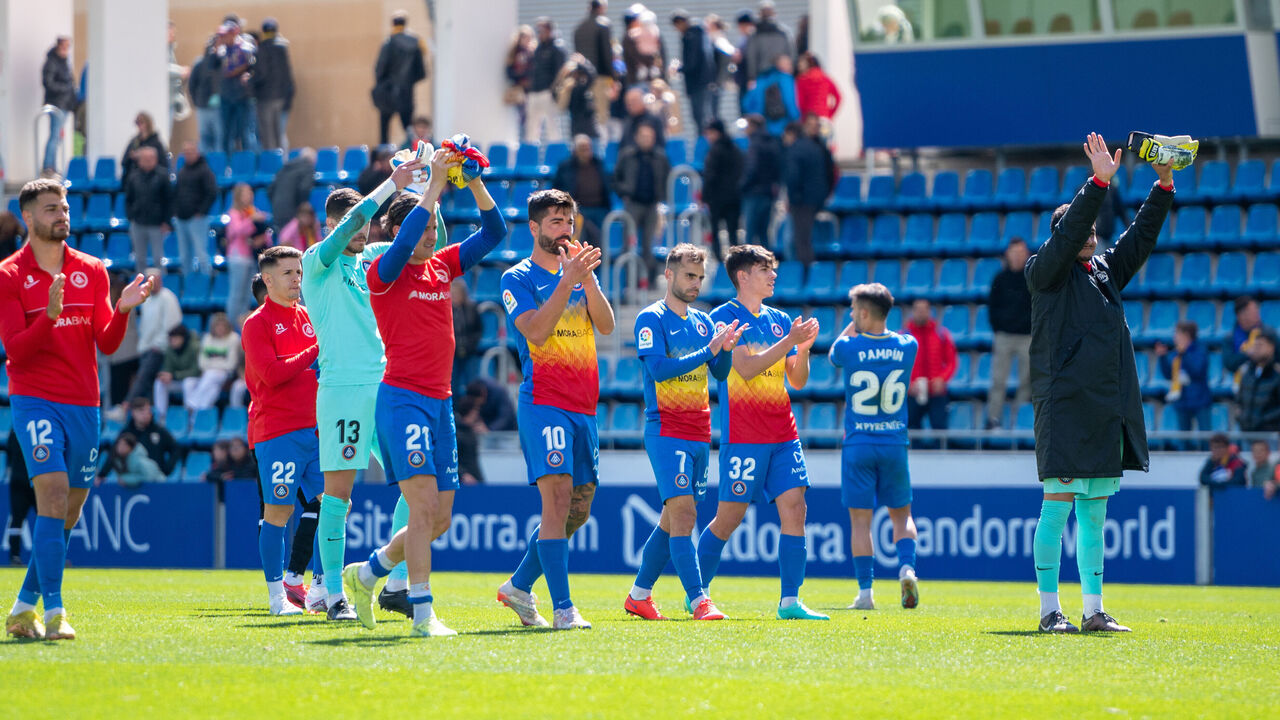 "Finding a piece of land big enough to actually achieve (La Liga's) requirements – it's been a nightmare," Vilaseca said, noting that La Liga is giving the club time to resolve an issue as one side of its current stadium is unable to house fans.
"It's not only the pitch, but it's the training facilities, the locker rooms, places where the coach can work. It's not that easy."
There are also concerns that FC Andorra lack local identity. Argentina-born goalkeeper Nico Ratti is widely considered Andorran since he moved to the country as a boy, but he's the only first-team player with strong ties to the area. The club has the same nickname and colors as Andorra's national team, and 44% of it is under the ownership of businessmen originally hailing from Andorra, but its strong Catalonian flavor is unmistakable.
"In many people's opinion, it is not a very close club to the country, to its traditions," Ivan Alvarez Cauyola, a journalist with Diari d'Andorra, told theScore. "The project has only been going on for five years and many people do not feel the club as an Andorran project."
'Football is not a priority'
Perhaps an ambitious football team in Andorra is an awkward fit. FC Andorra's average crowd last season was 2,041, marking a huge improvement from the start of the Pique era but still representing the lowest attendance in La Liga 2 and 19% below the league average. Vilaseca mentions Villarreal and Eibar, and Bover namechecks Girona, as overachievers from who FC Andorra can draw inspiration, but they're Spanish clubs.
Spain is a football nation. Andorra isn't, and it might be caving under the weight of Pique's ambition.
"Andorra is a very conservative country in many things and football is not a priority, nor the most practiced sport, nor is it the one with the most fans in the country," Alvarez Cauyola explained.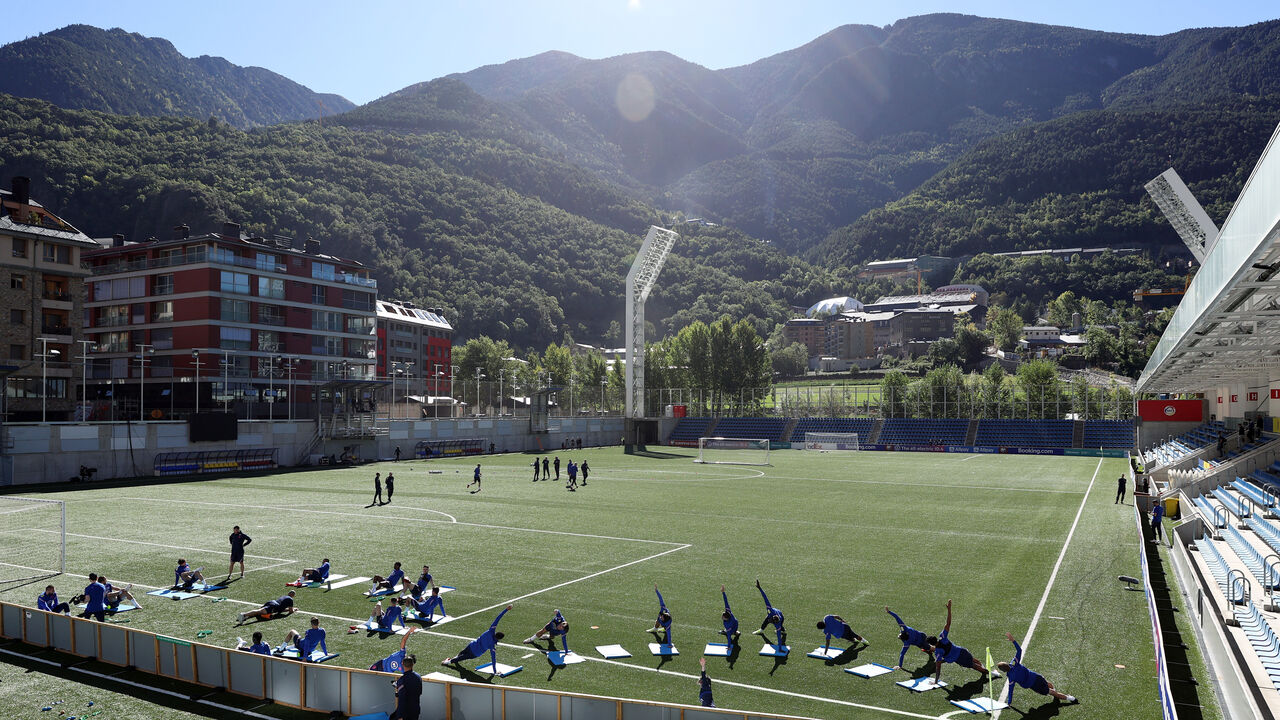 Adolfo Baines, who won trophies in domestic competitions as manager of Inter Club d'Escaldes in Andorra's Primera Division, grew frustrated with the country's lack of concern for football. He now coaches Catalonian outfit Pobla de Mafumet in Spain's extensive fifth tier.
"The administration in Andorra doesn't collaborate enough. They prefer to invest money in skiing or even rugby – rugby is the sport of the elite," Baines said.
"It's difficult to develop football," he added.
But that doesn't mean it's impossible. FC Andorra's attendances are modest, but they're creeping toward the club's reasonable target of an average between 4,000-6,000. They've had breakthroughs with the local government – taking temporary control of the country's national stadium over VPC Andorra XV, a rugby union team, should be deemed a significant victory. Alvarez Cauyola believes that "little by little, football has been exciting people." It's a gradual process, and there's still plenty of work to be done.
"We don't have time to actually digest and celebrate what we have achieved," Vilaseca said. "We're just thinking of what's next."